Missing the boat on the ocean of life?
Water and salt everywhere and no one pays any attention!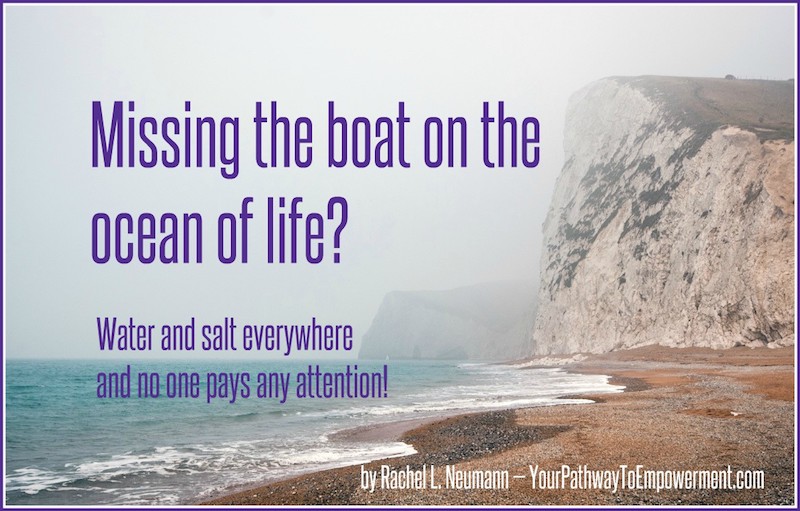 Share:
NOTE

Throughout this post I am referring to only unrefined Celtic salt, a mineral salt that contains over 80 important, powerful minerals for health and healing.
What would I have to say to convince you that water and salt go together and are necessary for your health? I hear this time and time again: "I can't use that much salt, I'll gain weight! My doctor told me to cut back on salt. I hate the taste of salt. I can't drink that much water. I hate water!"

But listen!

Both water and salt are necessary for energy, for metabolism, detoxification, hormone balance, a strong nervous system, a strong immune system, and feeding nourishment to all 67 trillion cells of your body. Without water and salt you definitely won't be the brightest bulb on the block! Your brain can't function without hydration, and you can't hydrate yourself without mineral salts.

Okay, true confessions. At times, I get caught in the trap of not drinking enough water - AND - not taking in enough Celtic salt! A few weeks ago, out of nowhere, I started to get hives - on my eye lids, on my third eye, and around my nostrils - the itching was horrible!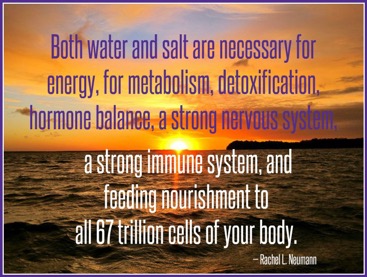 Then 'Divine Guidance': I happened to be researching more on water and salt one morning - and in a 'light bulb moment,' I put two and two together and realized that itching means a histamine reaction, which is a problem with dehydration, which means water and salt!! Head slap!

Wow, how did I miss this? I've been working in this field for over 40 years! Given that I'm a very good patient, I immediately got up from the pile of books in front of me and took 1/2 teaspoon of Celtic salt in one half cup of hot water and repeated it 30 minutes later and - BAM! The itching completely stopped! My entire body got calm all over! Oh, what a relief!

The truth is that I fell into the trap of thinking that because my Hair Tissue Mineral Analysis (HTMA) sodium/potassium ratio tended to show stress and be in the higher range that I didn't need the amount of Celtic salt that I had been taking. I cut back. I stopped the salt loading that I had been doing for the iodine protocol and just used 1/4 teaspoon of Celtic salt in each quart of water that I was drinking. I may have even cut back on water, going hours without drinking because I was working with clients. And I did all of this unconsciously while at the same time upping my dose of iodine. Oh my, a big mistake. (Detoxing BROMINE - ugh - requires SALT!)

Have you ever wondered why heart doctors take everybody off salt, and then when you end up in the hospital they immediately give you an IV with sodium to hydrate you? Exactly! Salt and water! Any time there is PAIN, inflammation, itching or hives, there is a need for more SALT and more WATER!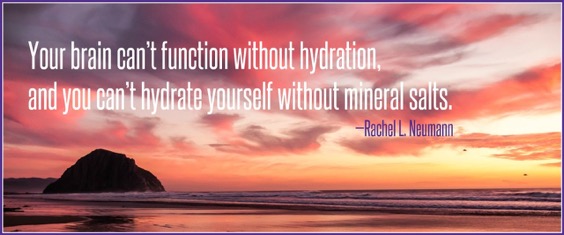 Dehydration is a big source of inflammation and heart attack. Blood pressure rises because of drought-management in the cells of the body. Hypertension denotes a deficiency of both minerals and water. Hypertension starts with an imbalance of minerals at the cellular level, which causes the interior cell fluid to dilute while the bloodstream is concentrated. In this situation there are not enough minerals to hold the fluid inside the cell, and out it goes into the blood, and we have a dehydrated cell. You absolutely can't move toxins out of the body and through the kidneys if you are dehydrated!

Histamine is a neural transmitter that regulates the rationing programs in the body. With dehydration, the resource management programs of the body begin to recycle some of the reserves of the body. In this situation the cellular breakdown will overtake the rate of cellular repair.

High calcium on a HTMA can also indicate dehydration: "In dehydration, protein breakdown occurs faster than protein production. When histamine breaks into the energy reserves in the calcium deposits in the cells (and eventually the bones), much loose calcium is released. This calcium release is a signal that the energy stores of the body are getting depleted."— Dr. F. Batmanghelidj, M.D.

Food allergies, PH Balance, chronic illness, the hormone system including adrenal strength, including the production of DHEA, progesterone, the estrogens, testosterone, and pregnenolone, thyroid health, and detoxification all depend on adequate salt and water.

And here's one more surprise! Weight gain is actually associated with dehydration. Since 'beginning again' with more salt and water, I've been losing those extra pounds that I put on during the winter.

I hope I have 'whetted your appetite' for more salt and water!

For further insight into this marvelous ocean of life, I recommend the following books:
1) David Brownstein, M.D.'s
Salt Your Way to Health

2) F. Batmanghelidj, M.D.'s
Obesity Cancer Depression


You can review my
Hair Tissue Mineral Analysis package here
or email me today at
RLN@yourpathwaytoempowerment.com
to schedule an empowered health phone overview with me and get your Hair Tissue Mineral Analysis in motion.

DISCLAIMER
This information and material is for educational purposes only. The preceding statements have not been evaluated by the Food and Drug Administration. This information is not intended to diagnose, treat, cure or prevent any disease.
Blessings,


Copyright 2017 © by Rachel L. Neumann of Your Pathway to Empowerment. All rights reserved. You may quote, copy, translate and link to this article in its entirety as long as you credit Rachel L. Neumann, the author by name, and include a working link back to this web page. All other uses are strictly prohibited.