On Mother's Day...
I wonder if my mother cried.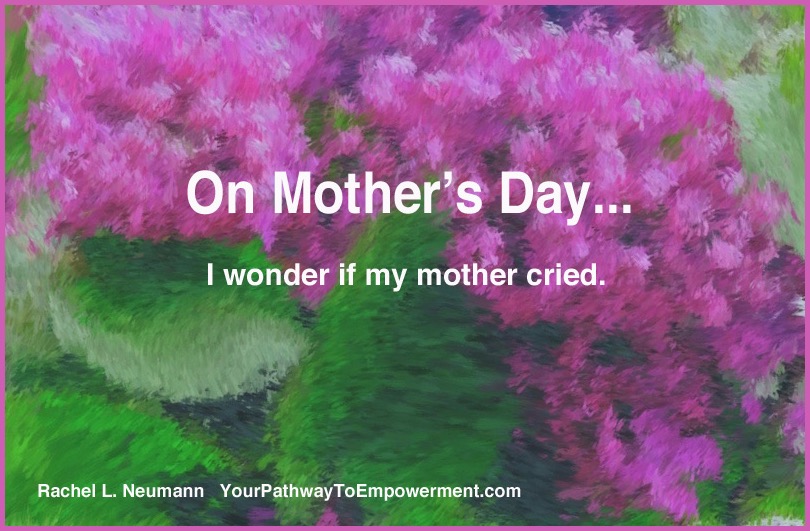 Share:
What's conjured up in a mother's heart on Mother's Day? I remember my first Mother's Day celebration. She was brand new, perfect, just three weeks old, and I was so proud to show her off!


I've never had a reason not to be proud of her, but I've had many reasons to cry.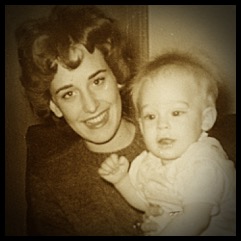 That horrible day when she was barely nine months old, a day like any other day, except the neighbor's child slammed the hall door on her sweet tiny hands as she bravely pulled herself up and proudly walked all by herself while holding onto the wall.

The tip of her ring finger burst with the pressure and I cried all the way to the hospital. I prayed that they could save her finger, which to this day still carries the scars of that traumatic incident.

A mother's tears are powerful, at least, I hope that they are. Scientists have discovered that tears have unique signatures, whether of grief or sadness, or even tears of joy.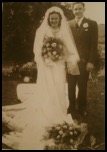 It seems that mothers cry plenty of all kinds of tears; it comes with the territory. So today, on Mother's special day let's remember the mothers who cry.

The mothers who cry are the mothers of those sons or daughters who are addicted to drugs, the mothers who can't sleep at night wondering if their sweet child is dead or alive.

The mothers of adult children who are locked away in prisons serve a hellish sentence all their own, one of isolation, even shame, for as long as that child is incarcerated. This mother is scarred with another kind of pain, and she weeps.

More than 2 million of our kids are locked up by a system that is fragmented and controlled by various interests and entities.

These aren't just numbers, these are families, people, children, and parents who are crying for help.

On Mother's Day, let's remember the mothers who struggle to get help and answers for their autistic children. The worried mother who with a hero's fervor, wrestles with "the system" to find services and support for her vaccine injured child, hoping against hope that her child will become at least self-sustaining, if not successful.

On Mother's Day we need to remember the aging mothers who still carry their adult children daily with heavy hearts, while watching them suffer with cancer, heart attacks and other debilitating illnesses. It shouldn't be this way; our children should be healthier than we are, but they are not.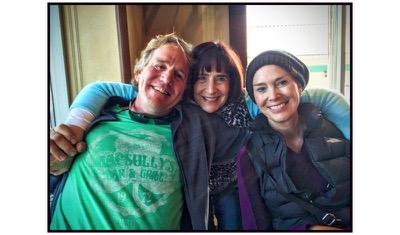 And also remember the mothers of children who are mentally ill, the mothers who still carry the stigma and shame of school shootings beyond their control. They struggled for years to get help for their children and society failed them.

On Mother's Day, remember to remember the mothers whose hearts are broken by rejection and abandonment; left behind and forgotten because of projection, misperception, blame, and anger.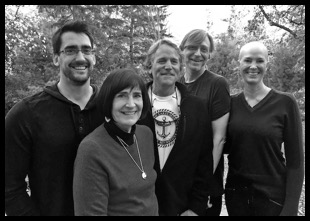 Mothers are not perfect, her mother wasn't perfect, and the mother before that mother was not perfect. We pass on the legacy, the psychogenetic history and emotional wounds of all of the generations before us. Each subsequent generation is given the responsibility to improve and perfect the family system model.

The image and metaphor of Mother is so full of power and spiritual significance, that next to God there is no more powerful concept. She has the power to give life and she has the power to withhold sustenance, approval, and love. For this reason alone, we should truly honor mothers every day of the year.

Blessings,


Copyright 2016 © by Rachel L. Neumann of Your Pathway to Empowerment. All rights reserved. You may quote, copy, translate and link to this article in its entirety as long as you credit Rachel L. Neumann, the author by name, and include a working link back to this web page. All other uses are strictly prohibited.