Thoughts — Words — Intentions
The building materials for your dream life? Or a nightmare?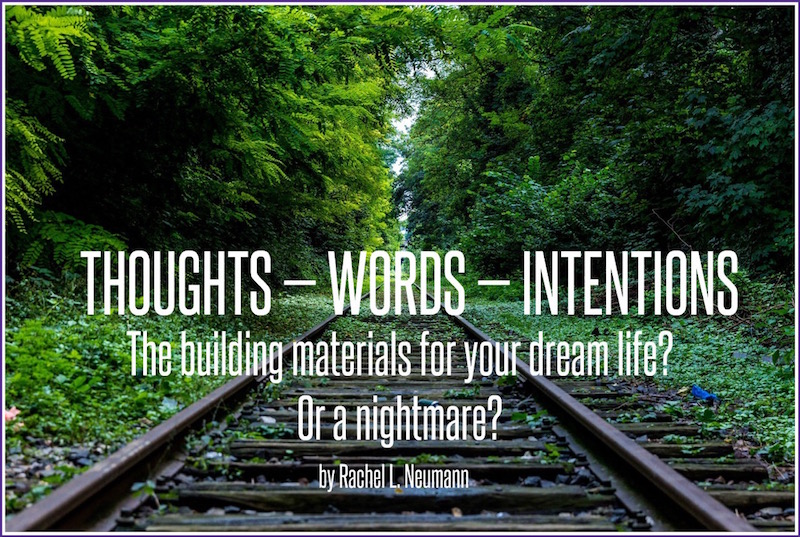 Share:
Your thoughts, words and intentions are the powerful energetic building materials that create the life that you live.
So, if I may, could I have a 'spiritual conversation' with you and ask you a few important questions?

* Do you wish that you could feel more peaceful in spite of circumstances in your life?
* Are you 'freaking out' a little about the chaos all around you in the world?
* Do you wonder how to stop those nightmare stories of 'the worst case scenario' in your mind?
* Are you feeling inauthentic and hopelessly out of alignment with your spiritual values?
* Are you more and more exhausted at the end of your day and feeling like you just can't get up and do it all over again tomorrow?
* Have you recognized the clues that you are not living an empowered life?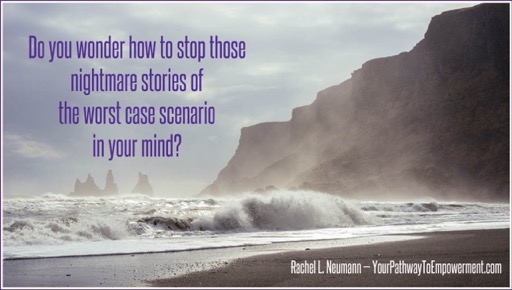 When you stay in a situation where you are not safe, where you are being abused. When you are in a job, career, or location that is no longer a fit for you. When you feel intimidated, can't speak your truth, or otherwise feel that you must always be 'politically correct.' The 'real you' is not showing up. But wait a minute! Just who are you not to show up as you in your life? Who else will show up as you and be you?

In each situation that you experience, it's only you that is the common denominator. So, what's really going on here? It's not about blame. It's about waking up. About realizing that you are the one who is creating your world, creating your life through the stories that you are constantly telling yourself.

Listen. Do you want to change something about your life? Then it's about changing your stories, living your life from the inside out and seeing your life in ever new, fresh ways, and a variety of different perspectives.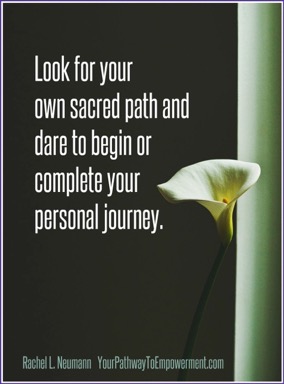 When you realize that you're finally serious about transforming something in your life, begin by becoming aware of the stories that you are telling yourself, because the deepest secret of creating our lives is that we actually live in our stories! We tell stories, that's what we do! Haven't you noticed? Whether it's about little stories or big stories, it's always about the story.


Night and day, we are constantly telling ourselves stories. Using thought and imagination, like brick and mortar, we are constructing lives out of the stories that we keep telling ourselves, and then, for better or for worse, we're doomed to live out those stories.

The stories that we are telling ourselves—the thoughts, words and intentions become the vibrations that influence our physical body, our genes and our DNA toward health and well being. We already have amazing abilities to co-create our lives. We are doing so everyday and we can accomplish so much more, be so much more in the world.

Look for your own sacred path and dare to begin or complete your personal journey. When you and I find our sacred path to empowered living, personal success and freedom, we will be helped to step into each of our spiritual components in a more powerful way! This is our calling. Our calling is to 'transform the world' with what we do.

We are actually now living in an age of miracles—a time of great potential, a time when all that we desire can be ours. But just like in the birth process, first there is chaos, and turmoil and pain.

We are now moving into a transition phrase where everything begins to move so fast that we can hardly catch our breath! And because it's almost time for birth, each of us is being asked to step out of our secret places of meditation and interact with the world— to become a light, a teacher, and a transformational leader. We are leading the way as 'imaginal cells,' the catalysts of outrageous wonderful change.


"The Divine vision is coming into the world and we are becoming aware of it. Things get confused because there is so much light pouring into the world, systems are breaking down, and things are being uncovered. It's like all one big boiling pot, confusion. It is all part of the process. It's a lot of light! Just breathe it in! The heart also listens, the heart understands. We may have a problem to accept this even when it's really positive."
— Shifra Hendrie, The Guided Tour

I believe that we are grooming the leaders and the change agents for the future and the future is now! And we are the leaders that we have been looking for. The call to each of us is "In a place where there are no leaders: Be a leader." Be the change that the world is looking for now.


Blessings,


Copyright 2016 © by Rachel L. Neumann of Your Pathway to Empowerment. All rights reserved. You may quote, copy, translate and link to this article in its entirety as long as you credit Rachel L. Neumann, the author by name, and include a working link back to this web page. All other uses are strictly prohibited.